Our mission
Omnata's mission is to provide data integration for modern architectures. Typically, this involves building native connectivity directly between cloud-based data platforms and enterprise applications, removing the need for heavy, dedicated middleware layers.
The idea is that cloud-based systems should be able to talk directly to each other, without the customer being responsible for moving data around and translating between them.
The technical challenge
For this to work, Omnata look for several key elements in a database product:
It must be truly cloud-based, with a public HTTP API endpoint

It must be simple to provision and use

It must be able to support the workload adequately, with the ability to scale and support high concurrency
Omnata is the only product in our category, and in many ways rely on database vendors to create true cloud products that meet these requirements. Up until now, this has meant partnering with a subset of cloud data warehouse vendors that enable our product to work successfully.
This has also meant that several large markets have not been available to us:
Companies with structured or semi-structured data lakes (S3, GCS)
Datastores typically inside cloud VPCs, or those without a HTTP API. This includes relational databases (RDS) and document stores (MongoDB, DynamoDB).

Streaming infrastructure (Kafka, Kinesis)

Enter Rockset
Rockset is a very exciting product that can turn every single one of these into a high-performance, cloud-based, real-time data service complete with APIs. It does this at a compelling price point and requires no operations.
This means that teams who are building data-driven applications no longer have to design and build a platform first; Rockset fully indexes their latest data and makes it queryable via REST APIs. They can move directly to solving their industry challenges, whether it's logistics, gaming, or just personalising their customers' experiences generally.
What does this mean for Salesforce users?
Now in public preview, Omnata Connect supports Rockset as an external data source for Salesforce, providing contextual customer-related information from your data lake, private datastore or streaming infrastructure. Contacts, Accounts, Leads, Opportunities, or any other object can be linked at the record level, and all of the Salesforce platform functionality can be leveraged, including reporting and automation.
For example - you have a customer-facing app using Rockset which shows real-time data. Your sales and service agents need this too, but they work primarily in Salesforce. Instead of building another data-pipeline and integration for Salesforce, Omnata means you can simply connect directly to this same data and surface it in the agent workflow, perfectly in-sync with what your customer sees in your own product.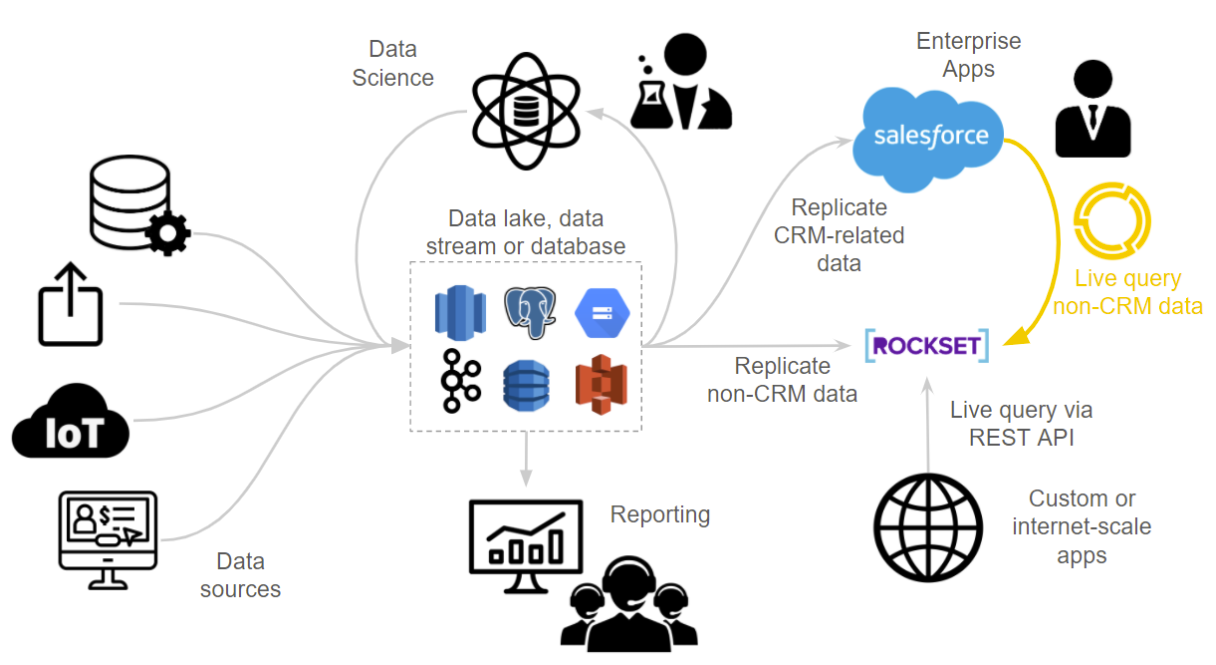 How do I try this out?
Step 1
Create a Rockset account , and follow the onboarding instructions to create a collection from your data source, and add an Alias .
Step 2
Install Omnata in your Salesforce development org: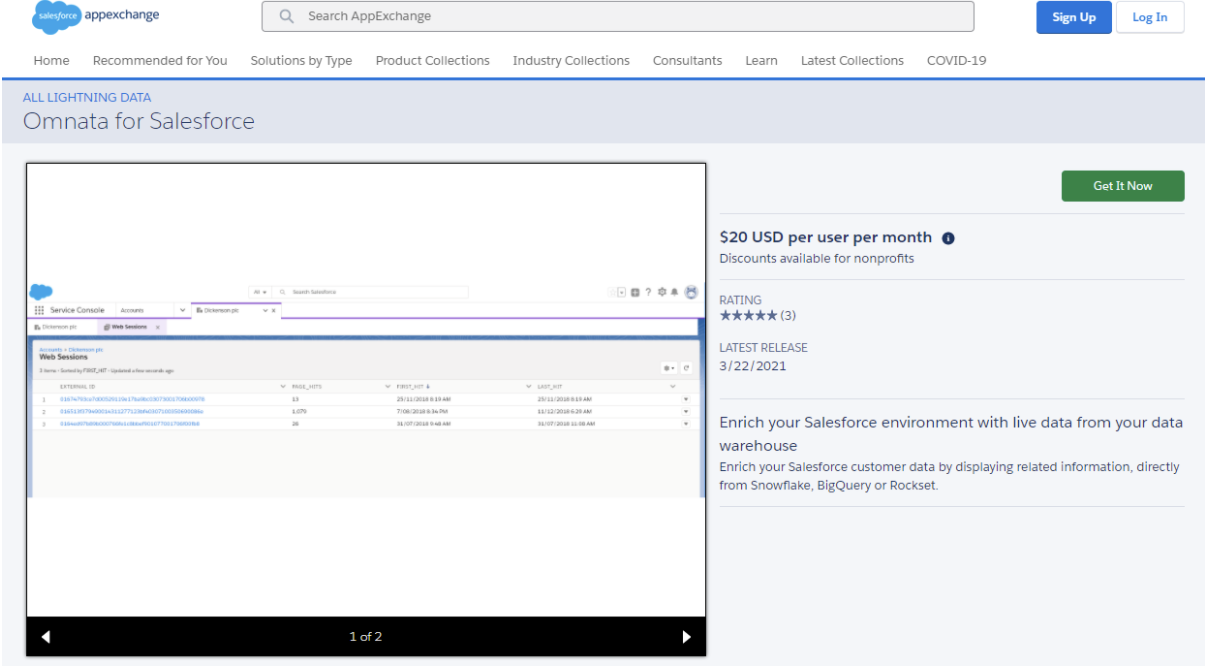 Step 3
Create a Rockset integration from Salesforce by entering your API key in the Omnata Setup UI.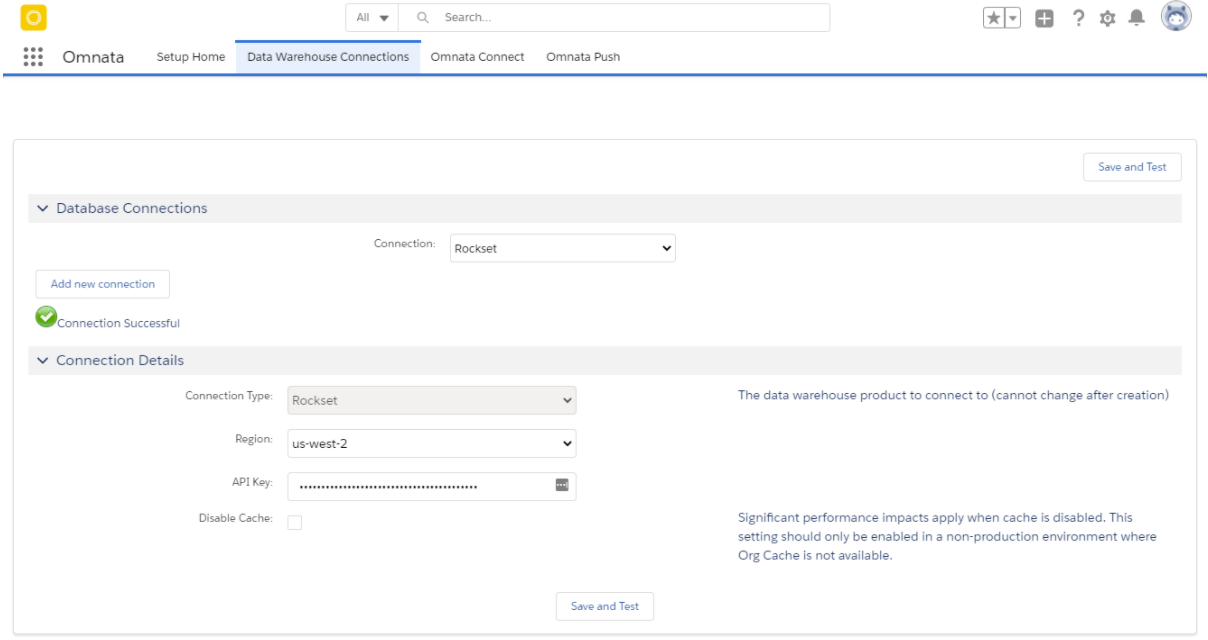 Step 4
Create External Objects from any of your Rockset Aliases.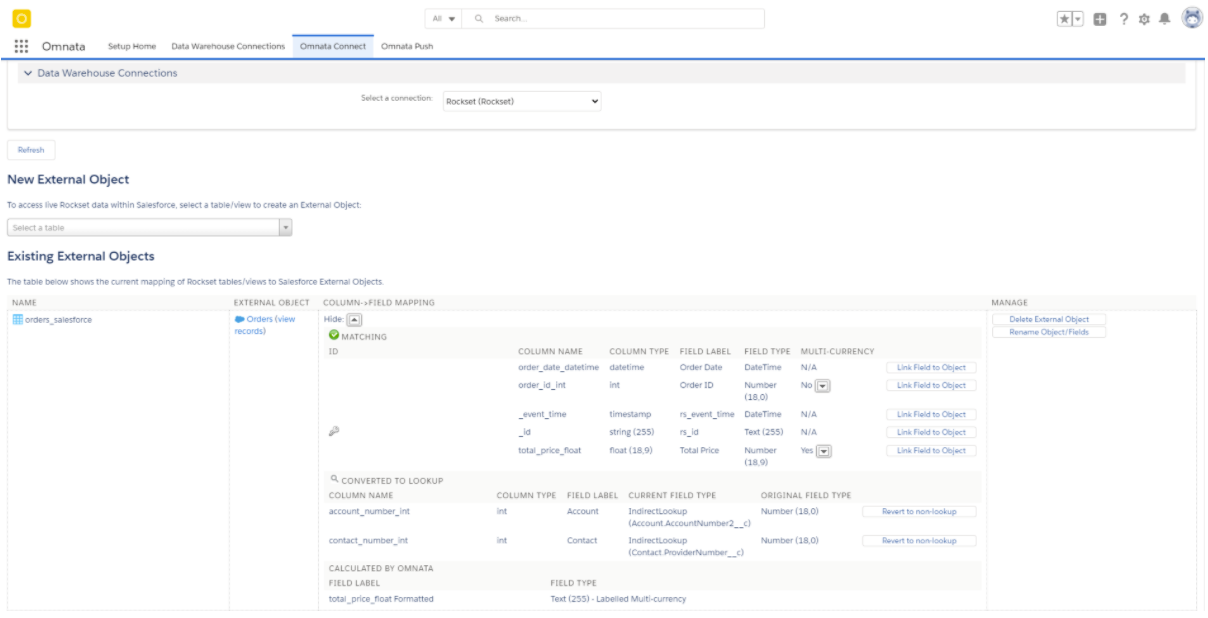 Step 5
You're done! Browse your Rockset data from within Salesforce, and link it to existing objects.